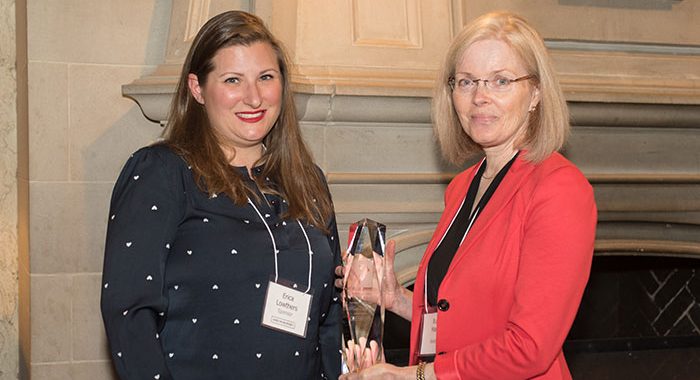 Celebrated innovation aids patients in swallowing
If ever you needed to visualize the convergence of research, clinical experience and commercialization, take a close look at the Abilex device – and its inventor.
A deceptively simple-looking hand-held instrument, the Abilex helps exercise and strengthen the jaw, tongue and mouth for people who have difficulty swallowing or speaking. It is the brainchild of Ruth Martin, Associate Dean for Graduate and Postdoctoral Programs in the Faculty of Health Sciences.
On Sept. 19, Martin will receive the Vanguard Awards Innovator of the Year honour from WORLDiscoveries for commercialization and entrepreneurship involved in developing the Abilex.
During her early career as a speech language pathologist in a neuro-rehabilitation clinic, Martin often worked with people who had difficulty swallowing because of strokes, brain injuries or throat and mouth cancers. Therapy was often slow and difficult, with few resources available to retrain both the tongue and the brain that controlled it.
"In terms of rehabilitation for the mouth, devices were fairly lacking," she said.
Later, when Martin was doing postdoctoral research, she worked on the hypothesis that electrical stimulation of the brain could promote swallowing in people who had lost that ability.
That lab is where her 'eureka' moment took place. Wouldn't it be helpful, she wondered, if there were an easy-to-use therapy that patients could use to exercise their tongue and jaw, and help re-wire the 'swallowing' parts of their brains at the same time?
It had to be lightweight so it wouldn't overload the jaw; malleable at one end so people could, with little pressure, bring about some movement even if they had little muscle control; and have a shape and form that would, risk-free to patients' health, help them stimulate their 'natural' ability to wet food into a little ball in their mouths to make it easier to swallow.
That last part was key. People with swallowing difficulties often lack the ability to create a swallowable food ball – sometimes leading to choking, or to patients' aspirating food into their lungs and leading to pneumonia.
Her lab tested several prototypes that included re-working the size of the handle and bulb, altering the shape to make it comfortable and appropriately challenging for the patient and ensuring safety of design and material.
She turned to WORLDiscoveries, the business-development arm born out of a partnership between Western, Robarts Research Institute and Lawson Health Research Institute.
"When we started doing this work in 2003 or so, I wasn't well-versed in any way to commercialization, including writing a patent application or any of those steps."
WORLDiscoveries worked them through the patent process to protect intellectual property – a necessary step in making sure the research could ultimately bear fruit. "WORLDiscoveries was absolutely important in terms of doing due diligence and protecting intellectual property," she said.
Clinical studies, which included functional MRIs at Robarts to test the device performance, took place from 2004-09. What may look like a simple, low-tech device is actually a product backed by considerable design, engineering and research expertise.
In 2009, London-based medical innovator Trudell Medical International picked up the licence for the device, which it now makes and markets as Abilex.
Testimonials include a man injured in a car crash who was able to eat by mouth for the first time in five months after using Abilex for three weeks and a woman left without speech for three years after her stroke, who is now able to swallow and speak.
"It's not every day that one of Western's medical technologies overcomes all of the commercialization hurdles and has such a positive impact on patient lives," said Lisa Cechetto, Executive Director of WORLDiscoveries. "Ruth is certainly deserving of this award for not only coming up with the initial idea but also for her steadfast commitment to moving the development of the technology forward.
"It is also not always easy for researchers to take a risk and spend their precious time and resources on a project that may not deliver outcomes in terms of grant funding or publications in the same way. The Vanguard Awards – and specifically the Innovator of the Year honour – recognizes those scientists who are at the forefront of their research and are taking risks to create a positive impact in society."
Martin also holds patents for an air pulse device, its licencing also picked up by Trudell, that could be used in hospitals to help promote better swallowing in patients. It is in use in both Canada and the United States.
"We would like to see these devices being used in the emergency room context and onward in acute care facilities and rehab facilities and provided in long-term care facilities and in patients' homes," she said.
She said the Abilex would not have been possible if not for her diverse but connected experiences as a speech-language pathologist, a PhD student and a neuroscience researcher.
"I believe in basic research strongly because, if I hadn't done neuroscience studies, I don't think any of this would have happened. Basic research is so important because it promotes creativity and critical thinking."
That wide scope of experiences in a variety of settings can be instructive for others who are also looking to make a difference, she said. "If we can encourage trainees to identify and define problems from multiple perspectives, then innovation begets innovation and you start to see things in a different way."
Source: Western News